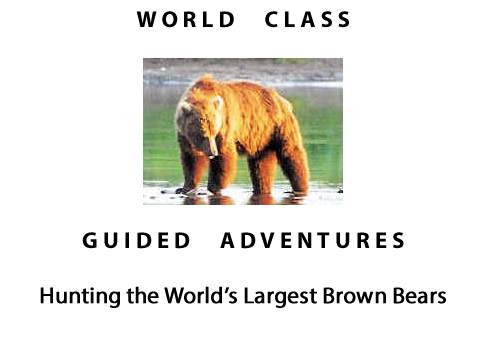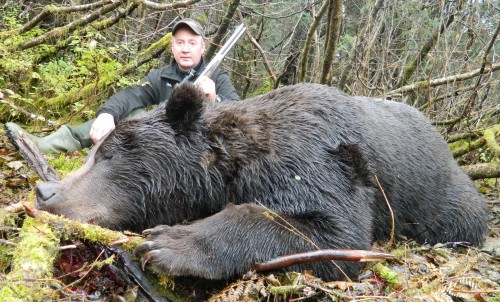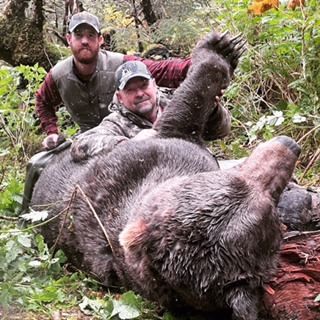 WELCOME… to the website of one of the most experienced and dedicated Alaska brown bear guides there is!
George Siavelis is one of the very few Alaska Master Brown Bear Guides today, who is personally guiding every brown bear client.
If you like the idea of knowing you will be guided in the field everyday of your hunt by a lifelong Alaska Master Brown Bear Hunting Guide with decades of brown bear experience …then take a few moments to review the detailed information at this comprehensive site.

Below you will find information on Alaska Brown Bear Hunting Guide George Siavelis'
most recent Brown Bear Hunts, including his current brown bear area.
10 ++ foot Brown Bears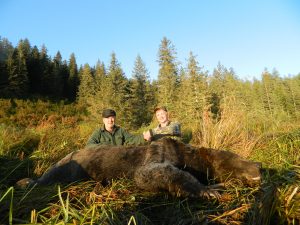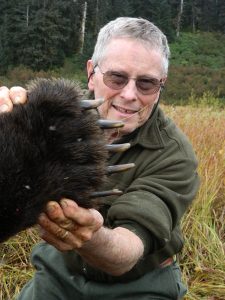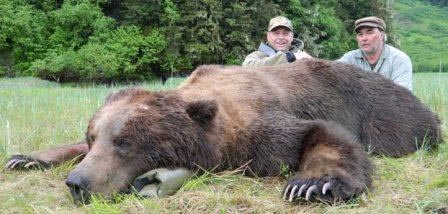 10′ 7″ very old monster bear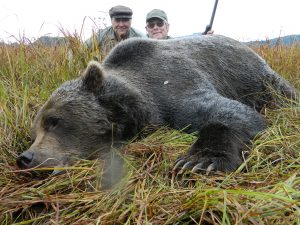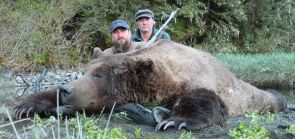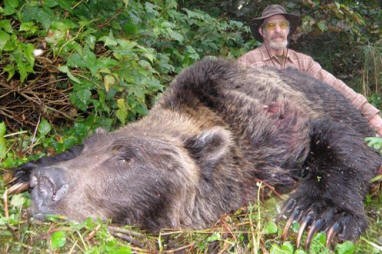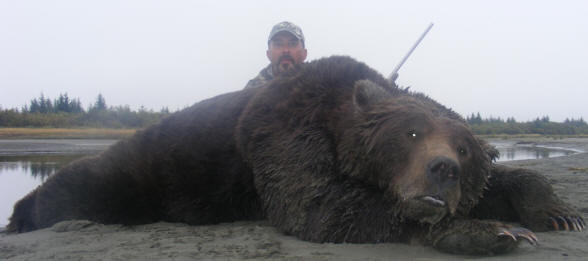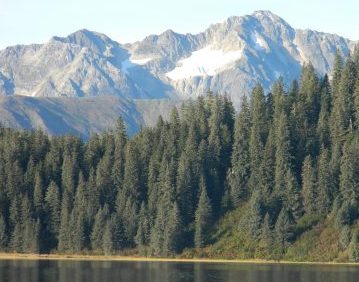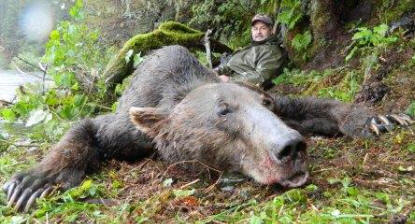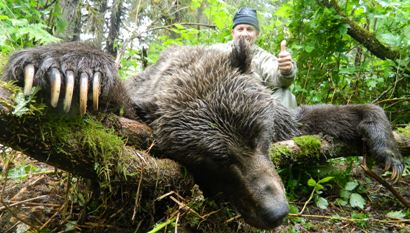 "Big Alaska brown bears are here! I just had to name the lake that we were camped on, "BEAR EXPRESS LAKE", since it didn't have a name and it sure seemed fitting. From the moment I arrived, I knew I was in for a true alaska wilderness experience. I was impressed with George's logistics, pilots, boats, etc.. for covering the ever changing conditions and game situations. Alaska master brown bear guide George Siavelis has a profound respect and knowledge for the big game of Alaska. A 10 foot brown bear walked by, about 7 or 8 yds. from the tent the first day. I couldn't shoot it because we had flown that day. I didn't mind settling for this 9 footer 7 or 8 hours later! Shot him from the tent in my slippers! Caught a whole bunch of fish for the next few days, including some big Rainbows. Then I booked my next hunt with Alaska brown bear guide George Siavelis. Thanks for the great times George!"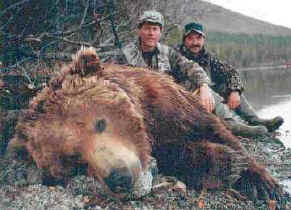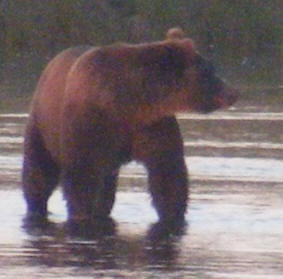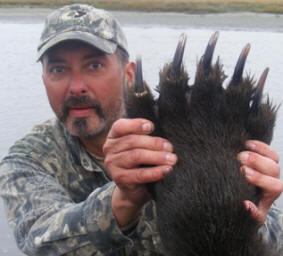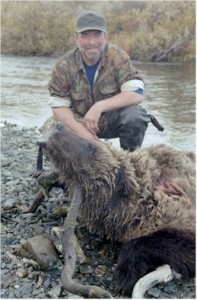 "I have been hunting for about 35 years and this was certainly the finest hunt of my lifetime! The tents/gear were first rate, the food was great, and I thought we saw a good amount of game. I was very impressed with Alaska brown bear hunting guide George Siavelis' ability to organize, coordinate, and communicate. I would give anyone my highest recommendation on George's operation. I hope to hunt with George again!"
WORLD'S LARGEST LAND CARNIVORE
Alaska Brown Bear hunting is the ultimate in North American adventure! Alaska Brown bear guide George Siavelis now specializes exclusively, on big brown bear hunting along Alaska's Gulf Coast region. The streams in these areas receive heavy salmon runs, including all five pacific salmon species. The bears in these areas are as large as bears get anywhere in the world. Watching the largest carnivores on earth, aggressively hunting and catching salmon, often just 30 or 40 yards away, will get your blood pumping, and will not be forgotten easily. Hunting the great bears along these streams is very exciting in deed. A giant coastal brown bear is the ultimate trophy.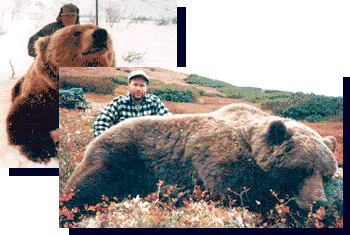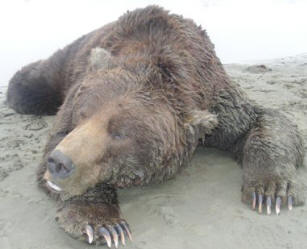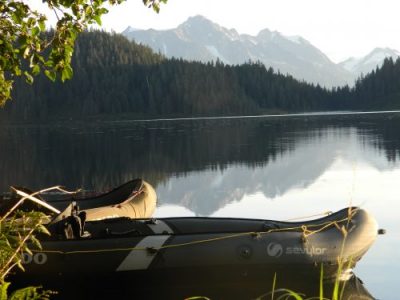 Alaska Brown bear hunting guide George Siavelis has a U.S. Forest Service Priority Use Permit in the Chugach National Forest, Cordova Ranger District. George lived, hunted, and trapped in the Alaskan bush year-round for many years and scouted many areas. George has chosen the best areas that he has found to hunt in. These game management units along the coast are indeed prime brown bear habitat and have very high densities of bears and produce some very large trophies. Recently the Alaska Board of Game has been taking steps to deal with the higher brown bear populations in some of these areas!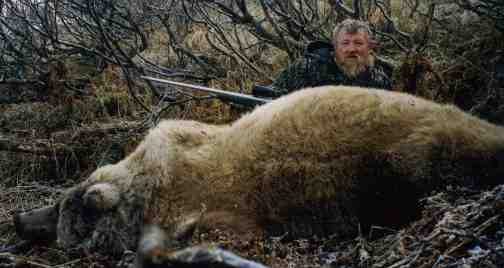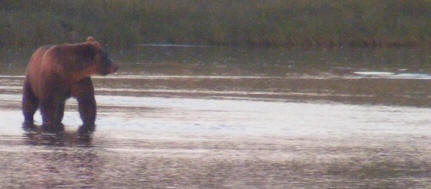 During the last few years, the focus has been on the fall hunts when the brown bears are concentrated along the small salmon streams. Consequently, more bears are seen at very close range. In fact, George likes to hunt right on what he calls the "salmon holes", where the salmon congregate, and the big brown bears are actively fishing everyday. These coastal wet areas are lush, and rich in a diverse variety of wildlife.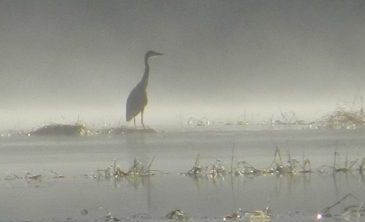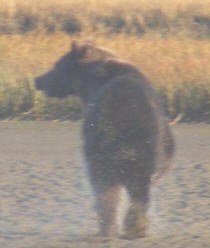 Imagine sitting quietly under a dark spruce, watching a powerful brown bear explode into a charge …running down a fleeing salmon …just yards away!
We watch and hunt brown bears at very close range!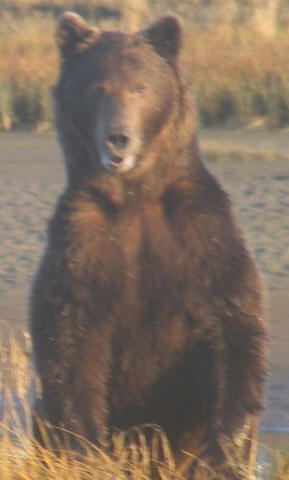 All photos on this site were taken by George Siavelis or his clients on these hunts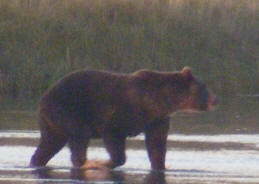 IMPORTANT: Recently, the hunts have been in early fall, BEFORE THE BEARS CHANGE THEIR SUMMER FISHING HABITS, when there's still allot of daylight so the bears aren't quite as nocturnal, the weather is warmer, and there is often a few less storms.
This is important and often affects success!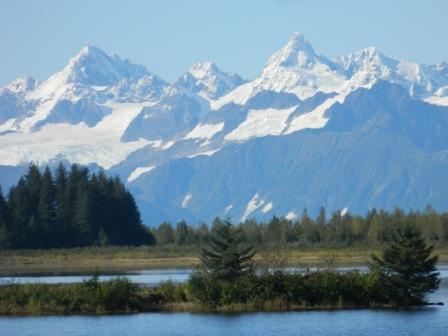 Watch a short video clip of a brown bear stalking a salmon, right in front of us
Here's a very short clip of a bear catching a salmon, as we watch from nearby!
Here's a short video clip of two bears fishing 75 yards in front of us. Watching multiple bears at the same time is not rare in this area !

And here's a very short clip of a giant 10+ foot brown bear still living & fishing in the area. Had to put the camera down and chase him from camp, because we already had a 10 foot 2 inch bear tagged, and we were done hunting.
Come and experience the enchantment of these majestic mountains, this remote wilderness where hunters can test their mettle and prowess, and the camaraderie of these brown bear hunts. There are very few people that see this Alaska, and there are some things only a brown bear hunter can experience. Hunting brown bears is like no other hunt on earth, and here you have a chance of harvesting a bear as big as they get.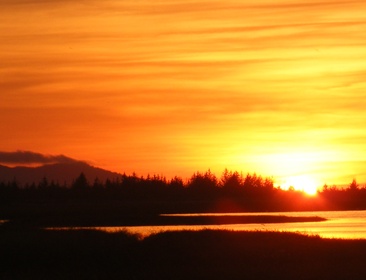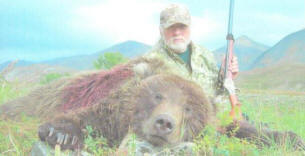 "George, I just can't express enough appreciation of how great the time spent hunting brown bear in Alaska with you was and what it meant to me. You are definitely a pro in every sense of the word and you have my utmost respect and admiration. I was very fortunate to have hunted brown bear with you, and if things work out for next year, we'll do it again.
Thanks again and Take Care."
E X P E R I E N C E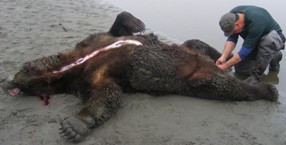 Alaska Master Brown Bear Hunting Guide George Siavelis has been guiding big game hunts, especially brown bear hunts, in Alaska for many years (virtually all of his adult life). George lived in the remote Alaskan bush, on a brown bear salmon stream most of his life. It has always been and continues to be a way of life for George. Alaska Brown bear guide George Siavelis is now guiding trophy hunts for the big coastal brown bears exclusively. All of his attention and effort now goes into this specialized hunt. George has guided for these big bears every year for all these years. If you book a bear hunt with Alaska brown bear guide George Siavelis, you will KNOW that the guide with you everyday in the field, has the experience and dedication you want. Because that hunting guide will be George.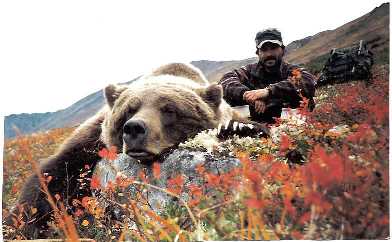 Few outfits in Alaska, can provide a better chance at a high quality, FAIR CHASE adventure! That's right, FAIR CHASE …unfortunately it seems less and less is heard about this aspect of hunting every year. Alaska Brown Bear Guide George Siavelis goes beyond the legal definition of fair chase to what he believes is true fair chase. You can and should be proud to hunt this way.
It would be difficult to find another Alaska brown bear guide or Alaska outfitter that is smaller volume or more dedicated. George contracts and guides very few clients each year. Don't hesitate to pick up the phone and give George a jingle and just ask how many hunters he will guide this year …
you'll probably be amazed how few. You'll also be impressed with his past record of opportunity to harvest these giant brown bears. Then compare that number to what most brown bear guides usually do. If you're interested in being guided in the field personally by a Master Guide with years and years of experience and reputation, call and see what the schedule is to see if George can guide you personally. George loves to just chat with hunters anyway, so call him and see how they did on the last hunt or what his outlook is for next year, or any other questions you might have…
George's Phone- (575) 538-1038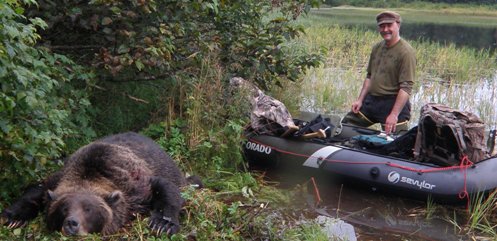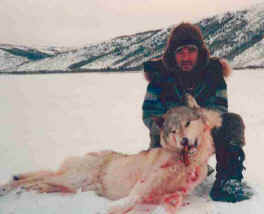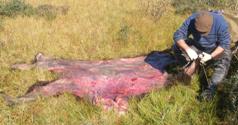 "Alaska hunting guide George Siavelis and his hunts are fantastic! All of my hopes and dreams were greatly surpassed when this 72 inch, official Boone & Crockett monster was called, and came charging in to 35 yds. George sure can talk moose language, literally! I saw 4 or 5 trophy bull moose over 60 inches, everyday that we hunted moose (not to mention all the other moose). Alaska hunting guide George Siavelis makes dreams come true! If you want to be SURE of hunting, in the field personally, with an Alaska hunting guide that really knows his stuff, you want to book a hunt with Alaska Master Guide George Siavelis. I honestly made my plans for my next alaskan hunt with George while on this hunt."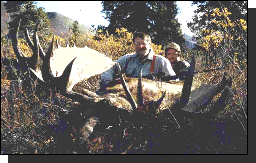 "I took this record book monster Bou at 30 yds. while videoing a couple thousand caribou coming by all at about the same distance! I saw 10 to 15 thousand caribou on this hunt. Alaska Hunting Guide George Siavelis had to chase them away several times as they were trying to sniff us and they had big antlers. The bulls were fighting with each other so close a few times that we had to move so they would see us and give us a little space. One very nice bull walked up and hung his head over inside the boat to see what was going on. "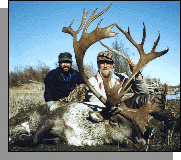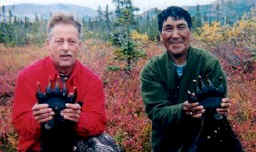 "Alaska Hunting Guide George Siavelis is a straight shooter!"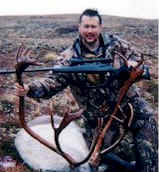 "Alaska hunting guide George Siavelis is an honest guide. Master Guide George and his assistants were very professional and knowledgeable about the area & game. I took a trophy grizzly bear, moose, and caribou. My brother took a nice black bear and caribou. I would hunt with George again. I expect to continue a friendship w/ George for many years!"Here's the ratings I made about Alaska hunting guide George Siavelis in a U.S. Refuge Service survey:Overall Guide Service: Excellent. Knowledge: Excellent Fair chase: Excellent. Safety: Excellent. Quality of Gear: Excellent Care of meat and trophies: Excellent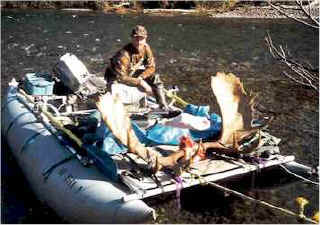 "I arrived in Alaska with no gear because the airlines lost my luggage. Alaska hunting guide George Siavelis completely outfitted me, including hunting clothes that fit, raingear, hunting rifle, ammo, etc…Shot this huge bull moose and a nine foot brown bear on my first day. Saw several even bigger bulls each day after that for about 5 days straight !! One or more of them were over 70 inches! ""Alaska hunting guide George Siavelis runs a great outfit. I would highly recommend him to anyone looking for a true Alaska adventure. Everything was well organized and I look forward to hunting with George Siavelis again!"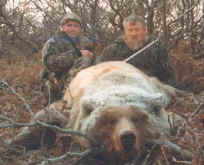 "After three hunts in Alaska, this was by far the best one I've experienced. As for Alaska hunting guide George Siavelis, he did everything he said he would. I have nothing to say about him except that he is THE BEST."
"George's honesty, hard work, integrity and the quality of game made my trip the hunt of a lifetime. The thing that impressed me most of all was his total preparedness for any situation.""I have hunted with some great guides before, but can honestly say Alaska hunting guide George Siavelis has no peer, he's the total package!"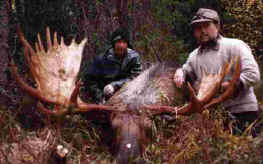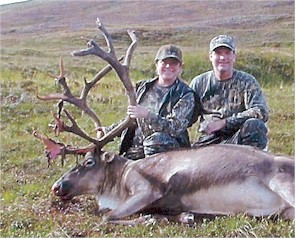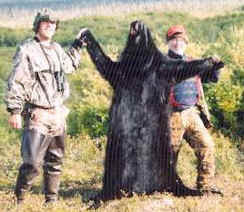 "I will tell you that my experience with Alaska hunting guide George Siavelis was wonderful. Initially, I was scheduled to arrive in Aniak on September 14, 2001. However, because of the 9/11 attacks, I was not able to leave for several days. George and I stayed in touch during this entire time, and although not requested by me, George volunteered to extend my hunt to cover the lost time. This was a classy gesture on his part – and typical of what I had heard of about Alaska hunting guide George Siavelis, and what I would soon learn to be true for myself. In addition to taking a nice grizzly on the first day and 2 Caribou, I saw and filmed wolf, wolverine, porcupines, bald eagles, falcons, ptarmigan, grizzly sows with cubs, a few moose and countless caribou over the course of my ten days spent in some of the most beautiful country on Earth. George demonstrated to me that he will do all that he says and more to make his hunts enjoyable, successful, and his customers happy. If you book any type of hunt advertised by Alaska hunting guide George Siavelis, you'll not regret it."
read this short article from BEAR HUNTING MAGAZINE – Best Hunt Ever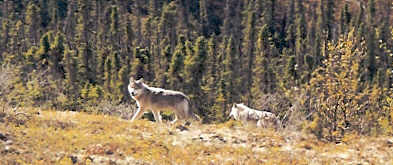 Please contact George for full Reference List of hunters who have hunted with George
Also, be sure to click on each of these pages below for more details on Alaska hunting guide George Siavelis' exclusive hunting operation !
In addition, for your convenience, visit our Links page to view information about, or contact our Anchorage Expeditor, game meat & fish processors, convenient hotels, local car rentals, other things to do while in Alaska, and more …