Griz
First of all let me say I never really thought about hunting a bear, black or grizzly. Then, 3 friends of mine, and I went to Alaska on a fishing trip. We seen bear everyday and really got the fever. I came home and started to write and call different guides in Alaska. Of course they all sounded great but after talking to George Siavelis of Aniak, Alaska I was sold and liked him right off.  Booked my hunt 2 1/2 years in advance. Took that long because he was booked up. Anyway, about three weeks before my hunt, George called and said he was having medical
problems and would not be able to guide me personally. Had a man named Henry if it was ok with me. "Ok with me", I said. About a week later George called again and said Henry had hurt himself and was out as my guide. "Not to worry" he said, "your guide is going to be Ed Zernia, a registered
guide and very good." I said "Ok", again. 
October 2nd, I left Denver, Co. for Anchorage, AK. While sitting at the Pen Air gate, I watched a young man come up to the ticket counter. I thought to myself, "Boy he really looks like he is in shape". Later he walked over to me and asked if I was George Siavelis' grizzly hunter. "Yes I was", I said. He said, "I am to be your guide". Finally got off for Aniak about two hours late, something wrong with the plane I guess. Got to Aniak. George was waiting there for us.  Got on the back of his four-wheeler with a little trailer for our gear. He took us to his cabin, unloaded all our gear, then took me to make sure my rifle was still  zeroed good. Anyway, the rifle was right on. I have taken a Dall sheep, moose, caribou, and several elk with the same rifle. We could not get out to camp that day because of the weather. Spent the rest of the evening talking and getting to know each other. The next morning George said he was taking us to the local school for sourdough pancakes and sausage breakfast. It was to raise money for the school. Ed ate about 75 pancakes. I guess he must still be growing. Finally the weather broke so we got out to camp about noon.  George took Ed 1st with the tent, food and gear. I followed later, what a ride  in the Super cub! The first time with tundra tires, it was great fun. Went around the mountain a couple times. Ed already had camp setup. Landed on the top of the mountain. Unloaded my gear and carried it down to the tent.  Ed had cut alders and set the tent back into the trees to stay out of all that wind.  George left and said he would be back in a couple days or so. The country here is awesome. I put my pad in the tent and rolled out my sleeping bag. As I backed out of the tent and turned around, not 60 feet away, was a grizzly bearlooking right at me.Only thing loaded was my camera
.Things seemed to behappening faster than even I wanted. What a rush! My rifle was inside the tent, unloaded.  Ed was up on top of the hill. The grizzly just looked at me, then stood up and sniffed the air. What a cool sight! I tried to get his picture, but the sun was right behind him. No picture. Then he just turned and walked down the hill.
Day 1
On the 1st morning of the hunt we were up early, and after a good oatmeal breakfast, headed over to the highest peak around. We sat down and started glassing. Not very long before Ed spots a grizzly. I finally spotted him 2 or 3 miles away. Wind was not in our favor so we just watched him for a while, then he was gone. Later on we saw a black bear walking back and forth like it was expecting a baby. Then it would go in the timber for about 20 or 30 seconds then come running out like it was on fire. It did that about six times, really funny to watch. Ed said there was probably another grizzly in there with a kill and he just wasn't interested in sharing it. Later that afternoon we spotted another black bear right below us, I'd guessed about 700 yards. Ed went into his pack, pulls out a Swarovski rangefinder, says 702 yards. I wonder what other kind of neat stuff he has in that pack? Ed doesn't have only good gear, he has the best I ever seen. I mean everything is top of the line.
Back at camp for supper we're having a freeze dried dinner. Just boil water, pour it in, wait five minutes, and you are ready to eat. We had a sea bag full of it. Could have stayed for two months if we wanted. George had plenty of everything. The only thing Ed wondered about, was why he sent decaffeinated coffee. Darn if I knew. 
Day 2
Glassing from the same place we saw caribou, pretty good herd. Then at 267 yards (rangefinder-good boy!) we saw a huge moose. The biggest I've ever seen. I have a 66″ moose, and this one was much bigger. We glassed more. It was really cold, must have been around 0 degrees
F. About 9:30 a.m. I got up to get something out of my pack. When I turned around,
not 50 feet away, another grizzly was watching us. My rifle was laying on the ground. By the time I grabbed it up, he was in the alders. Just gone!  No sound or nothing! Just like a ghost! Gets you thinking that when the fog is in, your head should be on a 360-degree swivel. Back to camp we went. Great supper, tonight's chili night. Then desert! Ah yes!
Must have been around 1 or 2a.m. Heard something outside the tent. No doubt about what it was. We could hear him or her grunting and snorting. Ed was awake too. He had a 10mm and said that if it sticks its nose in the tent he would have to spend a bullet. He never had to though. Not much sleep that night! The bear never messed with anything.
Day 3
Up early. Good breakfast! Back over to our peak. Pretty foggy, back to the swivel head stuff! About 9 a.m. the fog lifted. Glassed all day. Saw a black bear and tundra swan's during the day. Then about 8 p.m. we were getting ready to head back to camp. I stood up and right there was a grizzly walking away from us. I was wearing over blankets that are especially made to be put over your hip boots to keep your feet warm while glassing all day. I took off after the bear and fell down twice. Yanked them darn boot covers off. I ran over to where Ed was. The bear was out of site. We had to get to the next hill. We got there and there he was again. I dropped down to get off a prone position shot. Damn, more alders in the way! Jumped back up, the bear went over the next hill. I was starting to panic. I didn't want to lose that bear.  Another hundred yard dash! Covered it in 4.2 seconds. There he was again! The bear turned and was looking back. More alders! Didn't want him to see me so I used a kneeling position, my worst way to shoot. I fired. The bear let out a roar you could hear back in Denver. He went down. It all seems like just a blur. Before I could work the bolt for a second shot, the bear was in those darn alders again. Great job! 8:30 p.m., getting dark, with a wounded bear in the alders! Couldn't imagine anything better, huh?
Can't see any movement in the brush at all!  How could that bear get through all those alders, wounded, with no noise or movement?  Then Ed said he could hear him growling and hissing. I guess my ears are about 37 years older than Ed's. We waited about 30 minutes, then went over on the other side of the alders. We went in about 15 feet apart. Adrenaline pumping would be the under-statement of the century.  Wow! About 40 feet in and its getting real hard to get through it. Thick! I see something that I think might be the bear. I fight my way to my left not taking my eyes off the spot and sure as heck it was him. He was movingwith me as I moved! I took aim and fired at the dark moving spot. Hit him in the head. Can't tell if he's dead! Ed screams to me, "Did you hit him". I said " Yes". Ed asked," Can you see his eyes? If they're open, he's not dead." I couldn't see any eyes. Ed yells, "Keep talking so I can find you." Ed approached me. Then we both eased up carefully on the bear.
He was dead. Dream fulfilled!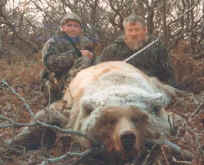 We had been hearing wolves every night so I was worried about my bear hide. I took my coat off and laid it over him. We both emptied our bladders around the bear. Didn't know if it would help, but we do it in case it will. It's too dark to do anything else. Couldn't even move the bear, too heavy. I wonder out loud how hard it will be to find him in the morning. "Not to worry", says Ed. He reaches in that pack of his again, pulls out a GPS. Then just in case, back into his pack, pulls out some trail markers and ties them on alders. Back to camp we go.  Wolves serenade us while we eat a great supper. Ed sings back a little. The wolves sing back more. Only in Alaska!
Day 4
Up real early. No breakfast. Head over to the bear. Walk over the hill, and see the ribbons. Off to my left down the hill, are 2 wolves. I ran the rest of the way to my bear. The bear was fine. More pictures, then Ed skinned the bear. He does a first class job. Back at camp, we eat a little breakfast. Back over to the bear after breakfast, and it looks like a slaughterhouse. I didn't think wolves could do that in a day. They ate most all of it.
I asked Ed when he thought George would be in. Ed said he didn't know, but then reached in that neat pack of his, again, and pulled out a small hand-held radio of George's. We hear a plane talking to somebody so Ed calls him and be darned if the plane didn't answer. Ed asks if the pilot could relay a message to George Siavelis. The pilot knows George and says he'll call him. Next morning we got picked up and flew back to Aniak.
After three hunts in Alaska, this was by far the best one I've experienced. I have one word to describe Ed, OUTSTANDING.  He was great company and knew his stuff like George said.  I still wonder what else he has in that neat pack of his. As for George Siavelis, he did everything he said he would.  I have nothing to say about either except that they are THE BEST. We asked George about the decaff coffee. He showed us his menu that I filled out prior to the hunt where I specified decaff coffee. Oh well, sorry Ed!
Don Osterman
 Reprinted from Alaska Professional Hunter 
     back to  Home Page